April 30, 2015
Confessions of a Michigan Ross MAcc Graduate
By Zach Papadakis, MAcc '15
After completing my undergraduate degree from an institution in the "state that shall not be named," I began visiting Masters of Accounting programs across the Midwest and East Coast. Many of the institutions were stuffy and lacked aesthetic, and in most of my meetings with admission directors, I felt like a number, a charity, or worse yet, a "typical" nerdy accountant.
It feels like just yesterday that I stepped into Ross for the first time and all of those feelings melted away. Ross felt like home. I felt accepted, I felt like more than a number, and most importantly, I felt like anything other than a nerdy accountant. Michigan was the obvious choice for me.
Oh, and the building is absolutely fabulous.
I mean, how can you go wrong with a Starbucks, an art gallery around every corner, a huge gorgeous open area to meet with other students, a Starbucks, a full fitness facility, and a Starbucks?!
Upon being admitted to the Master of Accounting (MAcc) program at the University of Michigan, I wasn't sure what to think. Applying to graduate school was grueling enough, but to be admitted to the Ross School of Business, one of the premiere business schools in the world, was truly bewildering.
Much like my favorite movie, Mean Girls, I felt like Cady Heron walking into orientation — surrounded by future elite accountants. Mutters of who had accepted a Big 4 full-time offer was all the hot gossip, and I felt off my game, insecure, and out of my comfort zone.
Let's examine: 1) I was from a small school in Ohio, 2) other than a few internships, I had no Big 4 experience, and 3) the Ross social structure includes BBAs, MBAs, MAccs, and many other brilliant individuals.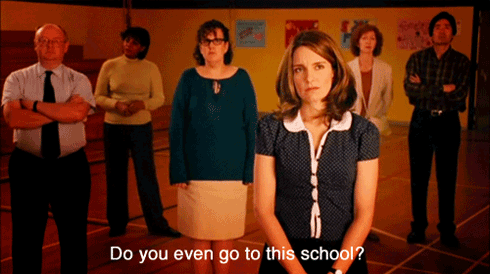 On the first day of school, I found myself in a finance elective course surrounded by Ross MBAs. As the professor lectured about "basic" derivatives and hedging strategies, I couldn't help but notice the Ivy League patch cemented to the backpack of the MBA student next to me. At any moment, I was expecting someone to point at me and yell "He doesn't even go here!"
After a few weeks, however, I began to experience a transformation. I started excelling in my classes and getting to know Ross professors. And I built relationships that crossed the boundaries of those social structures.
I was surprised to realize that these brilliant, intimidating Ross students were also pretty nice. And some of them, I'm proud to say, will end up in my circle of best and lifelong friends.
Everyone at Ross has a unique, diverse, and compelling story to tell. I am confident that the amazing people that I have met will soon be the future leaders of the business world (myself included).
In addition to a great network of people, Ross also provided me with more opportunities than I thought feasible. From almost suffering a panic attack before my first recruiting event to securing multiple job offers from firms in New York, the guidance and coaching of Ross Career Services and the MAcc program director were key to my success.
Ross gave me the tools to succeed, the launch pad to achieve my goals, and access to an elite alumni network. Today I am more confident in my abilities than ever before. As I prepare for graduation, I look forward to the next chapter in my life as one of the many Wolverines in the Big Apple. Go Blue!
---
Zach Papadakis is a 2015 graduate of the Ross Master of Accounting Program. He begins work at PwC in New York City this summer.
This is just one in a series of #RossGrad posts from students graduating this Spring.
Zach Papadakis
MAcc '15