March 13, 2013
An Operations Approach to Global Health Delivery
Delivering healthcare to some regions is a challenge. Find out how operations principles can help.
ANN ARBOR, Mich. — Malaria still is a deadly scourge in many parts of the world. And although preventing the disease through insecticide spraying is effective, it's also costly and labor intensive.
A new Ross case study examines this intersection of public health and operations. Written by Colm Fay, MBA/MS '12, and supervised by technology and operations professor Ravi Anupindi, the case shows how contractor Abt Associates increased efficiency and lowered costs for an indoor mosquito spraying program in Uganda. Malaria is spread via mosquitoes, and reducing their population greatly reduces the infection rate.
Abt Associates broke with standard practice by decentralizing its operations in Uganda and collaborating with local and district governments.
"There's a perception that engaging with the community and giving up some control is too risky," Anupindi says. "The thinking is that it will raise the cost structure and hinder effectiveness. That's not true. If you are willing to take on the capabilities to mitigate that risk, the efficiency gains can be huge, as this case shows. We need to rethink this issue in global health delivery. Maybe people are focusing too much on the risk side and not enough on the benefit side."
The GlobaLens case, "Abt Associates: Scaling Indoor Residual Spraying for Malaria in Africa," is part of a new course, Innovation in Global Health Delivery: Strategies for Enhancing Growth and Improving Access in Emerging Markets. The elective is taught jointly by Anupindi and Prashant Yadav, director of healthcare research at the William Davidson Institute, in the winter 2013 semester. The two also are part of an interdisciplinary university research group that's working to help solve problems in global health delivery.
Part of that effort involves this case study, because the practices it outlines are not widely used, but were successful.
"We want to get the word out that there is a different way of approaching service delivery in global health," Anupindi says.
Abt Associates took bold moves, in part, because it was faced with a serious problem when it took over a USAID-funded indoor mosquito spraying program in Uganda. It became clear that trucking spray crews to towns and villages from central locations was unsustainable. It was costly and some homeowners didn't allow their homes to be sprayed because they didn't know the people doing the spraying.
The company hit on the idea to create a large number of local storage areas and hire sprayers from the local communities. These sprayers would cover the last mile of the spray operations on bicycle, instead of being trucked from far- away centers.
The plan was not without risk. The pesticide is expensive and a potential environmental hazard. Procedures on storage, handling, and cleaning of equipment have to be followed exactly. Security must be tight.
All of those reasons are why most companies and NGOs take the centralized approach, Anupindi says. Not that they're bad reasons, but Abt found a way around them. It worked out a human resources plan, engaging with local leaders to find qualified people to run the storage centers and spray homes.
It worked out a whole new logistics plan and a new payment plan for the spray crews.
No doubt it was a challenge, Anupindi says. Abt had to bring in more capabilities and planning than it had thought.
"You have to manage more people, interact with more people," he says. "But that's the skill these organizations need to develop. We're seeing this decentralized approach as more effective." Indeed, Abt's new plan was a success. Among the results:
Sprayers covered more houses per day, reaching a 98-percent coverage rate.
The total spray cycle was 40-percent shorter
Utilization of the insecticide increased.
The cost per structure sprayed decreased by 50 percent.
In all, Abt projected savings of $2.4 million annually for the initial spray round. And since the spray crews were local, people were more likely to allow them to treat their homes. The question for Abt now is how to scale this program to other parts of Africa. One challenge is that every country's health ministry runs differently. What works in Uganda might not work in another country.
Another issue is mosquito resistance. Using one pesticide means the mosquito population eventually builds a resistance and their numbers increase. The best approach is to use multiple chemicals in the same spraying round. But that adds a lot of complexity, as some pesticides have different costs and require different treatment and handling than others.
The case illustrates why it is important to take a cross-disciplinary approach to global health, Anupindi says. These are difficult problems to solve, and operations expertise can help ensure money spent on these programs is used efficiently, benefitting more people as a result. In the case of malaria, it means preventing more deaths and serious illnesses.
"In cases like this, increasing coverage usually means throwing more money at the problem," Anupindi says. "But is that the best use of our funds, especially since USAID is using taxpayer money? While we need to pay close attention to effectiveness, we also need to achieve it with efficiency. The community-level approach gives you better efficiency and better effectiveness. The question these organizations have to ask themselves is, 'Am I willing to take up the challenge and develop the capability to engage the community?'"
Media Contact: michiganrosspr@umich.edu
Related Articles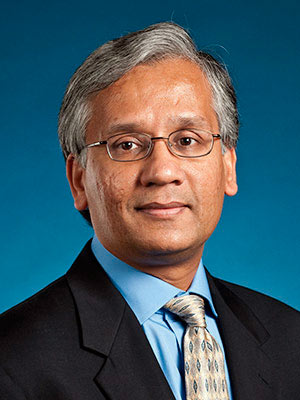 Colonel William G. and Ann C. Svetlich Professor of Operations Research and Management
Professor of Technology & Operations
Faculty Director, Center for Value Chain Innovation