March 24, 2014
Attacking TB in India: Operations Meets Public Health
Fighting a disease like TB is more than a medical challenge. Read how business principles apply to global healthcare.
ANN ARBOR, Mich. — Tuberculosis, a rare incidence in the West, is still a public health threat in emerging economies such as India, and drug-resistant strains are on the rise.
Solving the problem and finding ways to do more with limited resources for more people will require a cross-disciplinary approach. Winning the war against TB isn't just a medical issue — it's a societal, psychological, and business operations issue.
A new case study by U-M Ross Professor Ravi Anupindi, who also co-authored an op-ed in the Lancet Global Health blog, explores this intersection of public health and operations, underscoring the importance of applying business acumen to deal with this immense challenge.
"With a quarter of the world's burden, TB is a ticking time bomb for India," says Anupindi, David B Hermelin Professor of Business Administration and professor of technology and operations. "There is a need for business model innovation in this space, and academia can play an important role in research, education and advocacy."
The GlobaLens case study, "Operation ASHA: An Effective, Efficient and Scalable Model for Tuberculosis Treatment," highlights Operation ASHA, a non-governmental organization (NGO) and its efforts to improve delivery of TB treatment in India.
OpASHA supplements the public model by focusing on the "last mile" of delivery. It set up treatment community centers with medication and counselors who helped make sure patients finished the entire course of medication — a critical element of TB treatment.
The NGO has gained recognition for efficiency and its efforts had averted more than 360,000 new infections. The case details a moment of truth for OpASHA's leaders — whether or not to build a system to treat drug-resistant TB. It's a much more expensive and complex proposition.
Anupindi's case prompts a discussion on how to leverage assets and capabilities — both organizational and technological — and address the greater financial need for expansion and treatment.
Using business principles to improve healthcare delivery is a major focus for Anupindi, who teaches an elective at Ross, Innovation in Global Health Delivery: Strategies for Enhancing Growth and Improving Access in Emerging Markets. The course is taught jointly with Prashant Yadav, director of healthcare research at the William Davidson Institute. Yadav is a world-renowned expert in global health supply chains.
Anupindi and Yadav's op-ed in the Lancet Global Health blog, co-written with Madhukar Pai of McGill University, focuses on private sector challenges to developing patient-centric solutions to TB treatment. The private sector approaches to TB treatment are not working well for patients, Anupindi says.
"We really need to understand the problem from a patient's perspective," he says. "They're the ones who must navigate the path from cough to detection to treatment to cure. OpASHA is a solution that has worked with the public sector. But we need a similar patient-centric approach in the private sector that offers a complete solution with compassion and dignity."
Media Contact: michiganrosspr@umich.edu
Related Articles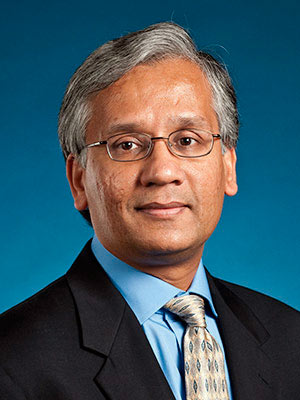 Colonel William G. and Ann C. Svetlich Professor of Operations Research and Management
Professor of Technology & Operations
Faculty Director, Center for Value Chain Innovation