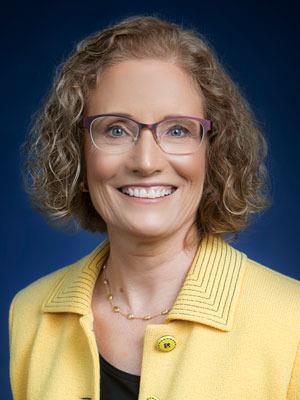 Dana Muir
Robert L. Dixon Collegiate Professor of Business
Arthur F. Thurnau Professor of Business Law
Area Chair of Business Law
Education
JD University of Michigan 1990
MBA University of Detroit 1980
AB University of Michigan 1978
Professor Muir is a nationally recognized expert on fiduciary and remedial issues especially in the fields of investments, pension plan funding, plan investment selection and investment policies, and investment advice. She is a passionate supporter of Ross School research showing that business can play a positive role in society and the way law supports business in playing that role. Her research reaches extensively into her peer academic community (both domestically and internationally), the legal community at-large, as well as the legislative, judicial and executive branches of the U.S. government. Her work has been cited by the U.S. Supreme Court and other federal courts. Professor Muir was the Editor-in-Chief of the annual supplements to Employee Benefits Law, the treatise for the employee benefits field and is a Fellow of the American College of Employee Benefits Counsel as well as a member of the College's Board of Governors.

Professor Muir was a member of the World Economic Forum's Global Agenda Council on The Future of Insurance and Asset Management. She also has been active in a variety of government-related policy roles. As a member of the Employee Benefits Security Administration's Advisory Group, she chaired the DOL working group on Defined Benefit Plan Funding and Discount Rate Issues. She served at PBGC during the implementation of one investment policy and the subsequent review of that policy. She spent her sabbatical in 2000 as a Congressional Fellow in the office of Representative (Rep.) Robert Portman (currently Senator Portman).

Professor Muir holds an Arthur F. Thurnau Professorship at the University of Michigan in recognition of undergraduate teaching excellence. She was a member of the Advisory Board of the Center for Research on Learning and Teaching.

Professor Muir is a past member of the board of the Ann Arbor Summer Festival and served as a board member and chaired the compensation committee at Aerospace Corporation. She has acted as an expert witness on fiduciary issues. Prior to joining the Ross School, Professor Muir practiced law at national law firms based in Chicago and Detroit and held a number of human resources positions at Chrysler Corporation.

The Evolution of the U.S. Pension System 1994-2019
25 Years of Pension Reform (in press 2021 Edward Elgar)
Kowiakowski, J., Stevens, Y
Fiduciary Relationships in Employee Benefit Plans
Source
Cambridge University Press
Firm Governance: The Anatomy of Fiduciary Obligations in Business (in press 2021)
Arthur Laby & Jacob Russell
Fiduciary Principles in Pension Law
Source
Oxford University Press
Oxford Handbook of Fiduciary Law
Criddle, E. et al.
Financial Literacy, Education, and Advice
Source
W.E. Upjohn Institute for Employment Research
Social Security and Pension Reform: International Perspectives (NOTE: entire book, including our chapter is largely a republiction of the 2013 Poznan book but repackaged for the U.S. market)
Szczepanski, M., Turner, J.
Financial Literacy and Financial Advice
Source
Poznan University of Technology
Old-Age Crisis and Pension Reform. Where Do We Stand?
Marek Szczepanski
The Market for Financial Advisers
Source
Oxford University Press
The Market for Retirement Financial Advice
O.S. Mitchell & K. Smetters
Constructing the Ideal Pension System: Cross-Country Perspectives of Eleven Authors
Source
W.E. Upjohn Institute for Employment Research
Imagining the Ideal pension System: International Perspectives
Dana Muir & John Turner
Imagining the Ideal U.S. Pension System
Source
W.E. Upjohn Institute for Employment Research
Imagining the Ideal Pension System: International Perspectives
Dana Muir & John Turner
The Effect of the Financial Crisis on U.S. Pensions - A Perspective on Financial Services Regulatory Reform
Protecting Pension Rights in the Economic Crisis
Yves Stevens
The Proliferation of Individual Pension Account Options: A Challenge for Institutional Oversight
Personal Choice in Provision of Retirement Income: Meeting the Needs of Older People
Gerald Hughes & James Stewart
Source
Filed with U.S. Department of Labor
Amicus Brief in: The ERISA Industry Council v. City of Seattle
Source
Circuit Court of Appeals for the Ninth Circuit
Source
Journal of the International Pension and Employee Benefits Attorneys
The Limited Role of Fiduciary Obligation in Employee Benefit Plans
Source
NYU REVIEW OF EMPLOYEE BENEFITS AND EXECUTIVE COMPENSATION
Source
ABA Employee Benefits Committee Newsletter
Fiduciary Obligations for Environmental, Social, and Governance Investments (lead article)
Source
New York University Benefits and Executive Compensation Journal
How Behavioral Science Ultimately Fails Retirement Savers: A Noble Experiment
Source
American Business Law Journal
Decentralized Enforcement to Combat Financial Wrongdoing in Pensions
Source
American Business Law Journal
Choice Architecture and the Locus of Fiduciary Obligation in Defined Contribution Plans
The Future of Securities Class Actions against Foreign Companies: China and Comity Concerns
Source
University of Michigan Journal of Law Reform
Default Settings in Defined Contribution Plans -- A Comparative Approach to Fiduciary Obligation and the Role of Markets
Source
ABA Journal of Labor & Employment Law (formerly Labor Lawyer)
Source
Compensation and Benefits Review
Building Value in the Australian Defined Contribution System: A Values Perspective
Source
Comparative Labor Law & Policy Journal
Justice Sotomayor on the Supreme Court: A Boon for Business?
Source
Virginia Law & Business Review
Employee Benefits Law Fall 2013 Cumulative Supplement
Spring 2013 Cumulative Supplement to Employee Benefits Law
Spring 2013 Supplement to Employee Benefits Law
Employee Benefits Law (3rd ed.)
Imagining the Ideal Pension System: International Perspectives
Source
W.E. Upjohn Institute for Employment Research
2010 Supplement to Employee Benefits Law
2009 Supplement to Employee Benefits Law